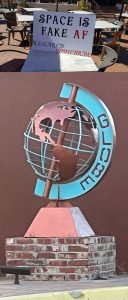 Calling all Phoenix and Tucson Flat Earthers for some Flat Activism Fun!
Let's gather at the Historic Downtown Globe sign, where the Highway 60 and the Highway 70 meet.
Be sure to bring your water, signs and have fun! Following this event, we'll meet at a local park for pancakes and maybe a classic flat earth film.
#ProtestTheGlobe #PancakeTheGlobe
12 November @ 2:00 PM
Historic Downtown Globe
#ProtestTheGlobe